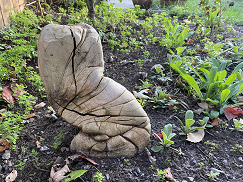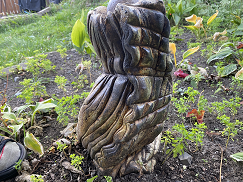 Nests: Creative drift
As we move fall along and get ready for winter, the garden becomes more than tranquil. When we walk into it (it's actually Ursula's garden), there is a white-ish, pale extrusion on the left : I call it part of the creative drift of life. On the right-hand side of the garden, its counterpart is dark, undulating and squeezed out of the funnel by the earth's heat. This piece also is of the earth's creative drift.
The structures are of course kéramos – the fired stuff.
The pale one is unglazed; the dark one glazed with stains and a black and a satiny finish: all applied by hand, sponge and brush.
The pieces are solid which means they are 7-9 inches thick at the base (20-24 cm). They weigh about 10- 12 kilos each.
These two are part of several series I made. I had a great deal of fun. My main shaping tool was a sharp edged 2 x 4. My hands, the second device. These are my "whacked" pieces, a very intense, physical, slightly agitating process — I had a wonderful time.
Vulcan I and Vulcan II are nests for granite and marble eggs.